Annual Robbie Burns Supper
When: Killarneys Restaurant & Pub, Temecula
January 21, 2012 @ 5pm
Download Flyer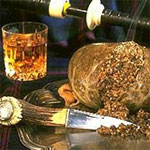 Traditionally celebrated on January 25th, a
Burns supper
is a Scottish formal event celebrating the life and accomplishments of the famous Scots
poet and lyricist… Robbie Burns.

As mentioned, the supper is traditionally held on Robbie's birthday, January 25th. However, since this date rarely falls on a Saturday night, Burns Suppers are usually scheduled the weekend before or after this date.
It is an evening of traditional Scottish food, drink and fun that include Scottish folk music, poetry and humorous toasts and speeches about the man... the myth... the legend... Robbie Burns.
Naturally, the evening would not be complete without a piper, and the traditional
Parade O' Haggis!
This is a very fun date-night, and an evening the entire family will enjoy!
Photo Gallery from 2011