Scottish Dress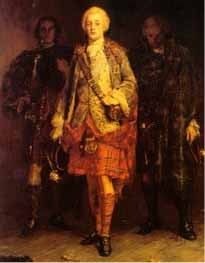 This is a somewhat romanticized etching of Prince Charles Edward Stuart ("Bonnie Prince Charlie") wearing the dress of the Scottish nobility from the 18th Century.
The more usual garment associated with the patterned woolen cloth (known as tartan) is the kilt. In its simple form, this was widely worn by Highland Scots in centuries past. It is worth noting that the kilt was not worn by the Lowland Scots, who formed the majority of the population of the country.
The highland dress which we know today, was much adapted and modernized during Victorian times. This was undertaken to fit a taste for all things Scottish promoted by Queen Victoria and her husband, Prince Albert.
Thus, while the basic garment is traditional, the style and much of the other regalia (including jackets, sporran, kilt hose and garters, sgian dhu, etc.), and certainly the range and formality of tartans which we see today were an invention of the Victorian gentry.
However, their remains an association of the tartans with the clans (or family-based groupings) of Scotland. Most Scottish surnames have an associated tartan, and some have several, which may be classified as:
Modern Colours
Ancient, Subdued or Hunting Colours
Dress Colours
Note that while women can and do wear tartan, they do not, however, wear the kilt. The kilt is a male garment, and is distinguished from the female pleated skirt by the length of cloth used in its construction (7 or 8 yards), the large number of pleats and its weight. The length of the kilt is very precise, stretching only to half way down the knee. The pleated skirt is usually much longer, as well as being narrower, with a smaller number of broader pleats.
Other tartan garments are rarely worn today in Scotland, being primarily sold to the tourist market. For example, few Scots would be seen in tartan trousers or a tartan bonnet, preferring to smile at the sight of rather more of our American cousins so attired.
Getting Yourself Kilted Up...
For those getting married, or interested in kilting themselves up for special occations, here's how you would go about doing it.
The first step is finding a quality kilt maker, then get yourself measured for your new kilt. Most kilt makers can provide a sheet to self-measure yourself, which you then fax back. Some tartans, like Strachan, are a custom weave and relatively expensive. Typically 9 yards go into making a standard sized kilt, and with labor the kilt alone is your single most expensive item... Up to US$800.00. Some more common kilts like the Black Watch or Royal Stewart are far less expensive. The good news, however, is that your kilt is something you can use throughout your entire lifetime.
The Society's eStore sells kilts, kilts skirts for women, and various accessories.
A kilt belt, and buckle.

Sporran
Formal:
Hose & Flashes

Ghillie-brogue (shoes)

Charlie Jacket and vest

Argylle Jacket

Tux shirt and bow tie

Optional Sash