History of Clan Strachan (Part 1)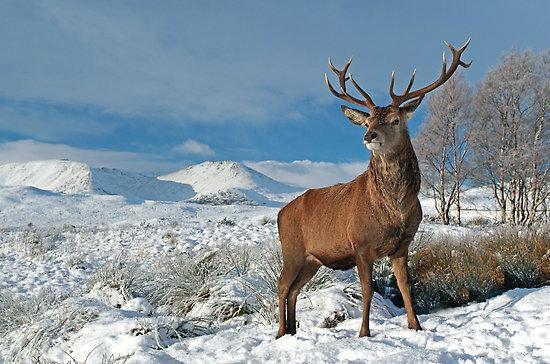 History to 1230
The lands of Strachan were once located on the northern border of the Pictish kingdom of Circin, which is bounded to the north by the Waters of the Dee and the Pictish Kingdom of CÚ (pronounced /cay/) which lay to its north.
A Mormaer was a Gaelic title for a regional or provincial ruler. The term would eventually become 'earl' in Scotland as feudalism slowly took hold.
On 12 November 1094, Mormaer Mael Petair of the Mearns ambushed and murdered King Duncan II (Early Sources, ii: 89-91). In 1097, Duncan's brother, Edgar took the throne of Scotland, and almost certainly confiscated the Mearns and retained this territory as a crown possession (Oram, 2004: 44-45; Grant, 1998).
In c 1189-95, the lands of Strachan are first granted in forest by King William ('the Lion') to William Gifford of Lethington, later of Yester (RSS, ii, no. 360):
King William grants to William Gifford the lands of Strachan (Mearns) in feu and in heritage, with pit and gallows, soke and sake, toll, team and infangthief, for an annual rent of 9 merks, 60 shillings, at Whitson; and 60 shillings at Martinmas. William is to hold Strachan in forest, and no one is to cut timber or hunt there without his license, on pain of the king's forfeiture of £10.
The list of liberties and easements provided in the Gifford grant, according to Barrow, is synonymous with baronial jurisdiction and is the distinguishing mark and test of a barony (RRS, ii, intro §2: 48-50; and Sellar, 2001).
This charter is the first and only time the Gifford family are associated with the barony of Strachan.
William Gifford died in c 1207. How the Strachan family came into possession of Strachan is unknown. Charter evidence provides a compelling argument that Ranulf came into possession of Strachan either through marriage or perhaps to a lesser probability an exchange of lands ( TAFAJ, vol. 27 ; and Yester Writs, no. 13).
Between c.1203x1213, probably c.1212, the first recorded use the territorial designation of 'de Strachan' is Ranulpho de Stratheuchin (Ranulf de Strachan), who was a witness to a charter of Thomas de Lundie concerning the Wood of Trustach ( Arbroath Liber, i, 65; and NGR NO NO 63705 96037). Here, Ranulf is witnessing as a neighbouring freeholder.
Between c 1219 x 25 March 1225: Randulfus de Strathphetham (Ranulf de Strachan) granted 'Brectulach' (today Bractullo, Angus) to Brechin Cathedral in pure and perpetual alms ( Brech. Reg., ii, no. 1; and NGR NO 47792 40322 ). This perpetual charter is not witnessed by a son or heir, and may suggest that Ranulf had no son, that his son had not attained the age of majority, or that by this date his son had pre-deceased him.
25 March 1222 x 24 March 1224, Lord (Dno) R. de Stradhehin was witness to a charter of St. Andrews and Gillemuire the scoloc of Tarland ( RI, postscript, pp. liii; Illustrations A & B: 18-19; British and Foreign Evangelical Review (1878): 475-6).
21 March 1225 x 17 June 1239, probably c 1225, Ranulpho de Strathechin (Ranulf de Strachan) was Preambulator for a gift of Kenny in Angus by Walter, son of Turpin ( Arbroath Liber., i, no. 306; and NGR NO 30943 5388).
The forest of Strachan was inherited likely by Ranulf's younger brother or nephew, Waltheof de Strachan.
Between c 1230x40, Dno Waldeuo de Stahechen (Watheof, Lord of Strachan) is listed second of thirteen witnesses on a charter by Agnes, daughter of John, son of Ranulph [de Cramond] for land with a toft and croft in the villa of Cramond. Given the forenames and Waltheof ranking in the charter, he may be witnessing as the uncle of Agnes. Also, the lands of Cramond (MLO) are adjacent and to the east of Dalmeny, which is relevant for purposes discussed shortly.
Waldeui de Stratheihan (Waltheof de Strachan) in c 1230 granted to the Priory of St. Andrews in Fife Blarkerocch in Strachan parish to construct a church and hall at Saint Andrews Priory (FIF) ( St. A. Lib., 276-7; Ash, St Andrews, App. 2, pgs 153-4, 241, 249 ; and PoMS, Doc 3/551/2).
Between 1219x40, probably c 1230, Waltheof de Strachan, with the consent of his son and heir Ranulf [II], granted to the Priory of Saint Andrews in Fife land of Blarkerocch, in Strachan parish, with common pasture for 60 pigs and 60 cows with offspring up to three years; and for 20 horses, with offspring up to four years. Waltheof also granted to the priory and convent timber in the Wood of Goauch for the fabrication of their church and for the building of the new hall [i.e., at St. Andrews Cathedral], and common hunting on all his land, for their men and dogs, in perpetuity, in pure and perpetual alms. In exchange, the priory and convent of Saint Andrews granted Waltheof de Strachan the debitum of one canon on his death and that his body be buried in their churchyard among their brethren.
Blarkerocch's phonetic spelling is best translated in Gaelic 'Blarcharnoch', meaning, 'The moor field with the Cairn.' This description uniquely fits the landscape of Bucharn Farm, in the village of Strachan, in which lay a prehistoric burial cairn, and is located west of the village centre and near the parish's western border (NGR NO 65935 93010).
This grant is for a perpetual right to lands in Strachan parish, and forest rights. These forest rights (to hunt and cut timber) were according to the original grant by King William I reserved for the baron of Strachan on pain of the king's forfeiture of £10 (RRS, ii, no. 340). Yet the Gifford family is not mentioned in the charter, not a witness to the charter, nor does Saint Andrews Priory have a confirming charter from the Gifford family. Further, one of the witnesses to this charter is Philip Melville, Justiciar of Scotia. The Justiciar of Scotia was the most senior legal office in the High Medieval Kingdom of Scotland. Indeed, the witness list alone confirms with a near certainty the 'de Strachan' family were freeholders of the barony of Strachan and direct vassals of the crown.
Similar to the name "Ranuf", the forename of "Waltheof" is also of Scandanavian origin. The name of Waltheof was somewhat unusual, and generally associated with families descendant from the high-reeve or Ealdorman of Bamburgh, who flourished in c. 994. This may be significant as the Earl of Lothian and the royal House of Dunkeld (i.e., the Crown) were both descendants of Waltheof of Bamburgh. It is therefore speculative, but if the 'de Strachan' family are of this lineage, then they would have been related by blood to the crown, albeit to what extent is uncertain.
Before 1232, Walleu? de Strathech (Waltheof de Strachan) granted a license to the Abbey of Newbattle, allowing them, 'to construct a mill-pond at the grange of Bearford, East Lothian, on his land called "Milnehalc" in the territory of Hailes'. This charter's sole witness is Patrick (I), Earl of Dunbar, who died in 1232 ( Newb. Reg., no. 96).
Regarding the 'de Strachan' association with Hailes in East Lothian, there are a few theories.
One source suggests that Waltheof de Strachan had married Mary de Hailes ( Gledhill: 199).
Another source suggests that Laurence Fraser parted with the whole of Hailes between 1260 and 1280, and that Waltheof de Strachan and Hugh Gourlay perhaps purchased these lands from Lawrence Fraser ( Frasers of Philorth, ii: 116).
There is; however, a third alternative yet discussed. Mary's first charter to Newbattle Abbey for 'Milnehalech' states that the nine acres she conveyed to Newbattle Abbey borders with the land of her nepos, Randulph ( Newb. Reg., no. 91). Nepos, a Latin word originally meaning "grandson" or "descendant" evolved with time to signify "nephew". It is possible that Ranulf de Strachan was the nephew of Mary de Hailes, and Waltheof de Strachan held these lands through inheritance. It seems certain that Waltheof occupied these lands in 1244. Waltheof, other freeholders in the earldom of Dunbar, and family of the earl are listed as jurors of Earl Patrick ( CDS, i, nos. 2671, 2672; and Hamilton, 2003: 210-11).
On 16 June 1242, the Church of the Blessed Virgin Mary in Strachan was consecrated by the bishop of St. Andrews, David de Bernham. The church in Strachan was endowed to the Diocese of Brechin. The benefice was granted to the serving Archdeacon of Brechin, signifying the importance of the parish. (Early Sources, ii: 520, 522; Ash, St Andrews, App. 2, pg 332). It is almost certain Waltheof de Strachan is responsible for the construction of the Church of the Blessed Virgin Mary in Strachan.
Waltheof de Strachan was succeeded by his son, Ranulf sometime after c 1244.
In 1264, Ranulf succeeded Alexander Comyn, earl of Buchan, to the Sherifdom of Banff ( ER,. i, clxxviii, clxxx, 15).
One of the features of the Sheriffdom in medieval Scotland was its tendency to become hereditary or held by a group of powerful and closely allied families. According to Barrow, the Sheriff was well-placed to influence the king's appointments, and subsequently, the office of Sheriff was 'semi-hereditary' (Grant, 1998: 57; and RRS, ii, intro, §2: 41).
Indeed, Ranulf de Strachan, and the 'de Strachan' family, were in very close alliance (perhaps kin) to the Earl of Buchan, and with a near certainty through his wife, Elizabeth de Quincy, the Countess of Buchan.
21 November 1268, Alexander Comyn earl of Buchan who married Elizabeth, daughter and one of the heirs of Roger de Quincy late earl of Winchester, has appointed in his place Ralf de Laceles, Ranulph de Straueyhin (Ranulf [II] de Strachan), Thomas de Kynros (the King's Clerk), and Gilbert de Kynros and any one of them who shall be present, to receive the property of himself and his wife of the said Earl's heritage (CDS, i, no. 2509)
26 November 1268, Ranulph de Strathekan, Michael de Strathekan and William Cumyn, called 'le blake' ('the Black'), are admitted attorneys to receive the property of the Countess (CDS, i, no. 2513).
Interestingly, Elizabeth de Quincy, Countess of Buchan was the daughter of Roger de Quincy, earl of Winchester and constable of Scotland (d 25 April 1264). Roger's older brother, Robert, predeceased him c 1217. Roger was the second son of Saer de Quincy. Saer's first wife was Orabile, daughter of Ness, son of William, lord of Leuchars in Fife. The marriage was annulled, and around 1190, Saer then married Margaret, daughter of Robert de Breteuil, earl of Leicester, with whom he had children. Saer's brother-in-law, Robert de Breteuil, earl of Leicester, died in 1204, and his inheritance was split between his sisters, Amice, wife of Simon de Montfort (d by 1188), and Margaret, Saer's wife. Saer was thus created earl of Winchester (on 13 March 1207), while Montfort was given the title of earl of Leicester. Saer also held lands in Perthshire, Fife, and a toft in the villa of Haddington (ELO). He went to the Holy Land in 1219 and died at Damietta, Egypt, on 3 November 1219. (PoMS, no. 2046; and PoMS, no. 806, PoMS, Document 3/23/16).
Ancestors of Ranulf (II) of Strachan and Elizabeth of Quincy held a common connection to the estate of Beath Waldeve in Fife, as each appears to have held a portion.
Between 1185 x 1200, after 20 Aug., poss. x 20 Aug. 1197, Saer de Quincy, Elizabeth's grandfather, granted his part of Beath Waldeve to Dunfermline Abbey in c 1200 (Dunf. Reg., no. 154).
On Saturday 21 May 1278 John of Strachan, son and heir of Ranulf of Strachan, knight, granted his portion of Beath Waldeve back to the crown in 1278 (Dunf. Reg., no. 86).
On 2 October 1278, King Alexander III grants John's half of Beath Waldeve to Dunfermline Abbey (RRS, iv, no. 115). The King's charter confirms that half the estate (i.e., a moiety) of Beath Waldeve that formerly belonged to John of Strachan, son and heir of late Ralph of Strachan, knight, was held by John and his ancestors under king and his ancestors by hereditary right. We therefore have confirmation the 'de Strachan' family share a genealogical connection to Waltheof, the original holder of Beath Waldeve, who was likely Waltheof de Strachan's grandfather (Place Names of Fife, i: 162 footnote).
One source suggests that Waltheof, Lord of Beath Waldeve and Waltheof of Inverkeithing and Dalmeny were one in the same person (Place Names of Fife, Villa Cospatric). Waltheof of Inverkeithing and Dalmeny had no male heir, and his lands and titles passed to Philip de Mowbray through his wife Galiena, daughter of Waltheof, Lord of Inverkeithing and Dalmeny (PoMS, no. 4618). This suggests that an almost certainty that Waltheof de Strachan's mother or grandmother was the sister or daughter of Galiena, whose name escapes history. Waltheof, Lord of Inverkeithing and Dalmeny's father was Cospatric, son of Waltheof of Allerdale, who was the son of Cospatric, first earl of Lothian. This suggests the 'de Strachan' family were kin to the Earl of Dunbar most likely through their material line.
As confirmed in the above charter, Ranulf de Strachan was succeeded to the barony of Strachan by his son, John de Strachan.
Subsequently, the charters of 1264, 1268, and charters associated with the lands of Beath Waldeve suggest the moderate to high probability the 'de Strachan' family were perhaps kin to the earls of Buchan, and in particular through Elizabeth de Quincy, Countess of Buchan. Whether family connection or not, the 'de Strachan' family were undoubtedly closely allied to the Earls of Buchan. This kinship or alliance would play an important determining the future role of the House of Strachan during the Scottish Wars of Independence.
Wars of Independence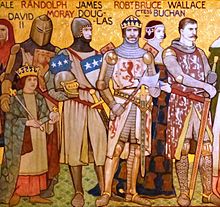 King Alexander III died in 1286, and shortly thereafter, his sole heir and granddaughter, Margaret Maid of Norway, died. To avoid civil war a panel of 12 Guardians were appointed who sought to have King Edward I of England arbitrate the matter. Edward agreed so long as the Guardians of Scotland recognised King Edward as Lord Paramount of Scotland. The two main competitors to the throne of Scotland were Robert de Bruce, 5th Lord of Annandale and John Balliol.
The arbitrators found that John Balliol had the strongest claim, and he was subsequently crowned 30 November 1292. John Balliol's great-grandmother was Maude, daughter of Waltheof, ealdorman of Bamburgh.
King Edward I of England wasted no time and began treating King John I of Scotland as a vassal of England, humiliating him at every opportunity. Edward demanded that homage be paid, legal authority over the Scottish King in disputes brought against him by his own subjects in English courts, and also costs of defense be paid by Scotland.
In 1293 following a naval incident between the Normans (i.e., France) and instigated by the English, King Philip the Fair of France summoned Edward I to French court with the intention to treat Edward no better than Edward was treating John I of Scotland. Edward refused his summons to appear before the King of France, and subsequently King Philip disinherited King Edward of his lands and estates in France.
In 1294, Edward declared war on France, and required King John Balliol send troops to support his campaign against France, and also required King John's personal attendance. This was an outrage that one King should summon another to fight his battles.
The Scots nobility soon tired of their deeply compromised king; the direction of affairs was allegedly taken out of his hands by the leading men of the kingdom, who appointed a council of twelve - in practice, a new panel of Guardians - at Stirling in July 1295. This new panel of Guardians went on to conclude a treaty of mutual assistance with France - known in later years as the Auld Alliance.
Angered by the perceived betrayal, King Edward subsequently invaded Scotland and made quick work, brutally dispatching Scots forces in Berwick Upon Tweed and shortly thereafter at Dunbar.
10 July 1296, King John Balliol surrendered. Here, King John was disinherited. King Edward formally tore the arms of Scotland from John's surcoat, giving him the abiding name of "Toom Tabard" (empty coat). Scotland became occupied territory, and John Balliol was sent to the Tower of London. He was eventually placed in the custody of the Pope and exiled to his estates at Helicourt, Picardy, in France (1299).
Rise of the Bruce and Fall of the Strachans
In 1297, William Wallace along with Andrew Morray launched a rebellion against the English to return King John Balliol to the throne of Scotland.
However, King John Balliol by this time was quite old, and uninterested in the crown of Scotland. This created yet another void to the throne. Edward Balliol (b. 1283), was the only son and heir of King John. However, Edward Balliol was also exiled by King Edward of England to his family estates in France a year earlier in July 1296, and appears to have also been uninterested in the Scottish Crown until Robert de Bruce's 4-year old son inherited the thrown decades later (c. 1230). Regardless, in the early 14th century, the nearest relative in Scotland of John Balliol was John III 'Red' Comyn, Lord of Badenock. Red Comyn's mother was Eleanor Balliol, King John's sister. To confirm, based on a hereditary monarchy, Red Comyn had a superior claim to the Crown over Robert de Bruce based on a primogeniture right.
Nonetheless, Robert de Bruce (son of Robert de Bruce, 5th Lord of Annandale) had never reconciled the prior judgment that Balliol and later Comyn both had a superior claim, and remained resentful that his father, Robert the Bruce, 5th Lord of Annandale, was not Crowned King of Scotland.
Robert de Bruce invited Red Comyn for a secret meeting before the high altar at Greyfriar Abbey in Dunfries on 10 February 1306. In a meeting that was supposed to be peaceful, Robert the Bruce slew Red Comyn at the high alter. This was an excommunicable offense and to avoid capture and imprisonment, Robert de Bruce immediately fled to Glasgow to meet with Robert Wishart, Bishop of Glasgow. After promising to obey the Church if made king, Bishop Wishart absolved Robert from his sin, and further proclaimed Robert de Bruce the rightful King of Scotland.
However, Robert's claim as Sovereign of Scotland was not recognised by the Church, and to the contrary Robert de Bruce was excommunicated for this murder of Red Comyn.
Regardless, the following month, on 25 March, Robert de Bruce was crowned King of Scotland after much controversy. Contrary to many popular accounts, Bruce's actions at Greyfriars and subsequent excommunication severely damaged his reputation in Scotland.
Upon the death of Red Comyn, the next in line to succeed Balliol to the throne was his cousin John Comyn, 3rd Earl of Buchan. As mentioned above, there is charter evidence confirming that Strachan of that Ilk were very closely allied to the earls of Buchan, and also were likely blood kin and possibly cousins to John Comyn, earl of Buchan.
Undeterred, Bruce coordinated a series of attacks against both English forces and those loyal to the Comyn cause. Bruce was soundly and repeatedly defeated, and eventually forced into a long retreat into the Highlands where he went into hiding.
The following Spring, Robert de Bruce returned, and changed tactics. Instead of taking and holding castles and fortifications, his goal turned into sacking and destroying castles and fortifications loyal to Comyn or garrisoned by the English. Bruce was ruthless, and took no prisoners. He would slaughter the castle garrison down to the last man, including prisoners who surrendered. Further, he would burn the castles and fill the wells. Any crops would be burned, and livestock either taken, or slaughtered and burned. This strategy largely prevented the English or Comyn forces from re-taking or re-occupying these fixed fortifications, which they had so successfully done in the past.
This new mobile strategy allowed Bruce to consolidate his gains. After taking control of most of Lowland Scotland, Robert the Bruce and his forces proceeded up the west coast of Scotland, into the Highlands, and around into the Northeast.