Battle of Inverurie (1308)
At the close of summer 1305, King Edward I of England had exiled Balliol with maximum dishonour.
Also, by this time King Edward had captured and killed Scotland's greatest military leader William Wallace with maximum cruelty.
By all accounts Scotland was dead, and Edward I of England owned it. There was only one final step to conclude his conquest. In 1301, Edward sought the Pope's agreement that John Balliol was no King, as there was no Scotland to be King of.
Scottish Bishops William Lamberton of St. Andrews and Robert Wishart of Glasgow sent a small party of Scottish priests with legal expertise to save the Scottish Crown. The party of clerics made a successful pleading, and the Pope ordered the release of Balliol, and the restoration of the Scottish Crown.
However, a demoralized Balliol, now exiled to his lands in France, was no longing willing nor able to be King of Scotland. An absentee King created a void on the Throne.
John III 'Red' Comyn, Lord of Badenoch, was a blood relation of Balliol and next in line. However, Robert the Bruce had always felt cheated that his father had not originally been recognized by King Edward as King of Scotland in 1296. These two were the primary claimants to the Throne of Scotland.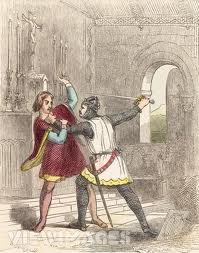 Comyn and Bruce had agreed to meet at Grayfriars Abbey in Dumfries (1289). The meeting was supposed to be peaceful, but an argument erupted. Bruce murdered Comyn at the alter in Grayfriars, and some historians suggest Bruce had intentionally planned to assassinate his competitor, John Comyn. This act shocked all of Scotland, and most of the Catholic world. Bruce faced excommunication from the Catholic Church. And, in fact he would later become excommunicated. His barons would also become excommunicated for not uprising against him, and eventually all of Scotland for not uprising against the barons.
Regardless, the Bruce fled to Glasgow Cathedral, to Bishop Robert Wishart. Wishart absolved Bruce of blood guilt on condition he swear an oath that as King, he would always remain obedient to the wishes of the Scottish Clergy.
Wishart launched the Bruce. He proclaimed on his pulpit that Bruce was their rightful King, that this was a crusade, a holy war and to fight for him. Wishart and Lambert, on 25 March 1306, recognized Robert as King of Scotland.
King Robert began securing Scottish castles like a "man of war." King Edward and his English forces then began re-taking castles held by King Robert. The Bruce was eventually routed by Edward's forces near Perth. Needless to say, he fled. His wife and daughter were captured by King Edward, and confined in convents.
Bruce, rather than flee Scotland, chose to fight. In 1307, he landed in Ayreshire with a small force of Irishman and Hebridians. In Galloway, Bruce surprised a superior force of English troops, and was victorious. He engaged a much larger force of English troops once more, and was victorious again. By this time Edward was aged and infirmed, and shortly died thereafter. King Edward's heir, Edward II was not the military genius his father was, and made only one failed attempt to reclaim Scotland.
The Bruce then turned his attention on the murdered Alexander Comyn's cousin and heir - - John Comyn, 3rd Earl of Buchan and his many supporters - - who were still loyal to Balliol, and subsequently the Comyn family and their claim to the Throne of Scotland.
The Bruce marched north. He had a small mobile force that employed excellent tactics, and had a reputation of being ruthless. Bruce reduced one Comyn castle after another to rubble, killing everyone. A ruined castle was after all no use to Comyn, no use to the English should they decide to return, and no use to the Bruce who employed a mobile hit and run strategy. He burned Comyn castles and filled their wells.
The Comyn and Bruce forces met at the Battle of Inverurie in Aberdeenshire, also known as the Battle of Barra, which was fought in May 1308. The Earl of Buchan, cousin of the murdered John Comyn, had gathered a sizeable force and dug themselves on the summit of Barra Hill, the site of an abandoned iron age fortress.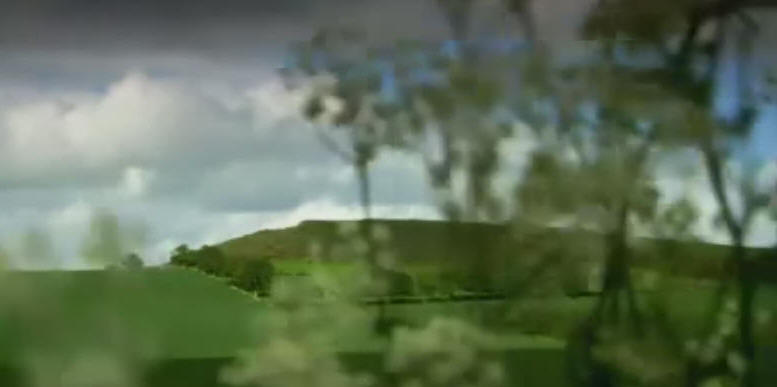 It was, he thought an impregnable position. He was wrong. Bruce's reputation had preceded him. The Earl of Buchan lost his Calvary to simple terror. He then lost the battle and fled to England, with many other of his supporters.
There were still supporters of the Comyn that Bruce needed to exterminate.
After the battle, forces loyal to Bruce attacked among other places - - Aboyne Castle, which was held by the English. They then turned their attention on neighboring Strachan, the location of a timber fortification, Castle Hill of Strachan.
By March of 1309, the Bruce had crushed virtually all opposition, English as well as Comyn.