Ragman Rolls of 1296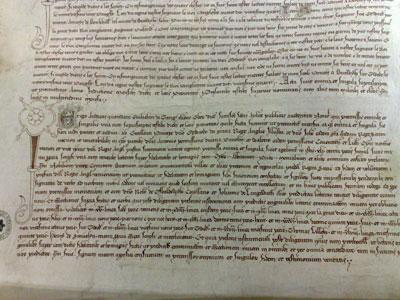 The Ragman Rolls refers to the collection of instruments by which the nobility and gentry of Scotland subscribed allegiance to King Edward I of England.
After the death of Queen Margaret in 1291, there were a number of claimants to the Scottish throne. At that time, due to several marriage alliances, Scotland and England had a diplomatic relationship.
Only later would King Edward of England become notorious known as the 'Hammer of the Scots'.
When it became obvious that Scotland couldn't make the decision without an all out clan war, King Edward of England offered to hear their cases and decide who had the most valid claim. When the Noblemen who were involved met with Edward at Norham on Tweed, Edward insisted in having them sign oath of allegiance to him, partly because he was afraid of making an unpopular choice and causing a riot among the Scots. The document signed by most of the noblemen is called the first and smallest of the Ragman Rolls.
King Edward recognized John Balliol as King of Scotland as he was the male primogeniture heir to the Crown of Scotland. This shocked many Scots as Robert the Bruce was one of King Edward's kinsmen.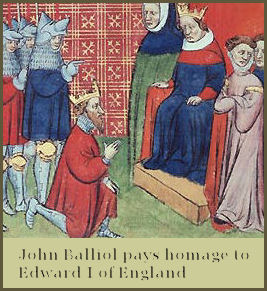 The inauguration of John Balliol in 1292, over whom Edward I had great influence, led to a great deal of unrest. The newly enthroned king acknowledged King Edward of England as his feudal superior (pictured left)and thus sowed the seeds of his demise. King Edward repeatedly humiliated the new king of Scotland at every opportunity.
King Edward I of England had a set of standing orders drawn up by his attorneys for the hearing of Scottish appeals of a character unheard of in history of appellate justice. By these rules the King of Scotland in person was required to attend in England the hearings of every appeal against him and if the English court adjudged a miscarriage of justice, he was to be held personally liable for damages, both to the appellant and to his lord superior (King Edward himself!).
The climax of this measured harassment was reached in October 1293 when King John was summoned to appear in person before the English parliament to hear an appeal against him by John Macduff, younger son of Malcolm, Earl of Fife. When King John presented himself as requested, he was treated with deliberate discourtesy and made to stand at the bar like a private malefactor. After refusing to testify on the basis that he was King of Scotland and that the court had no jurisdiction in Scottish affairs, the court declared him guilty of extreme contempt, and that he should not only pay all damages to the claimant, but also hand over to King Edward I of England three principal castles in his realm together with their attendant towns until he had purged his contempt.
In a bit a tête-à-tête, King Philip the Fair of France had observed the arbitrary manner that Edward had treated the Scot's King. With ironic malice, he decided to follow Edward's example. Edward, in his capacity of Duke of Aquitaine (France), owned Philip fealty. Claiming that English seamen had attacked French ships without provocation, Philip cited Edward I to appear in person before the parliament in Paris and there submit to the judgment of his lord superior. When Edward failed to attend, King Philip seized Edward I's lands in Gascony as forfeit. On 24 June, 1293, Edward I of England retaliated by renouncing his homage as duke and dispatched a formal declaration of war.
Edward then demanded that King John send Scottish troops for his war with France in 1294, and shortly thereafter summoned King John Balliol himself to fight. The King of Scots to do military service for the King of England - - it was unthinkable.
King John Balliol of Scotland rebelled, not only by refusing to supply military service to Edward, but also by making a treaty with France: should England attack France, Scotland would in turn march on England. In return, the French promised support should Scotland be attacked. May 1295, the Scots had elected four bishops, four earls and four barons to manage the government of Scotland in King John Balliol's name.
With this information, King Edward subsequently decided that the conquest of Scotland had priority over that of Glascony (France), and began gathering his forces. The Scottish Council in the name of King John issued a national call to arms.
When Edward went to War with France in 1296, the Scots duly marched into England.
30 March 1296, King Edward sent an army 30,000 strong north into Scotland (the largest army ever to invade Scotland). The first stop was Berwick Upon Tweed. The English forces quickly overwhelmed the Scots timber fortifications, and for two days streams of blood from the massacred Scots filled the River Tweed. Men, women and children were slain... 7,500 soles of both sexes were ordered massacred by Edward despite the surrender of the local garrison. The slaughter was finally stopped when local Catholic Clerics pleaded with Edward to show some pity.
English forces under the Command of Edward next fought the Scots at the Battle of Dunbar (1296). Contrary to Hollywood motion pictures, William Wallace and Andrew Moray were not supporters of Robert the Bruce, but instead ardent supporters of King John Balliol's claim to the Throne of Scotland.
The Scots forces were lead by Wallace and Moray in Dunbar. Unfortunately, the Scots at Dunbar were quickly overwhelmed and capitulated. Thereafter resistance buckled. Castle after castle fell. including, Kildrummy Castle - - the seat of the Earl of Mar. Most of the Scots nobility were captured and imprisoned. After Edwards defeat of the Scots forces, he then turned his attention on Balliol.
Edward I deposed King Balliol at Montrose Castle. Here, kingship and the symbols of he Scottish kingship were stripped from him, including the ripping of the royal coat of arms from his surcoat (thereby earning him the enduring title Toom Tabard ('Empty Coat' or 'King nobody')).
Below is a medieval depiction of King John Balliol stripped, with an empty coat of arms, and a broken white rod (the rod represents authority, and thus broken or lost authority). Edward sent the broken and humiliated Balliol to the Tower of London, then eventually to exile in France.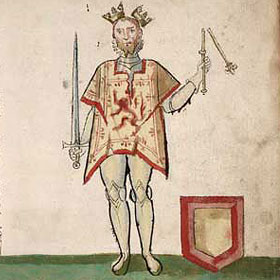 Not content to humiliate a man, Edward plundered the country. King Edward sent about systematically stripping Scotland of all its important artifacts of Scottish sovereignty and independence including:
- the Stone of Destiny, where Scot Kings had been inaugurated from the earliest times;
- the Scottish Crown;
- the Black Rood of St. Margaret. St. Margaret (c 1045-1093), a Saxon Princess of England born in Hungary, fled to Scotland and married Malcolm III Canmore, King of Scotland. She is said to have brought the "Holy Rood", a fragment of Christ's cross, from Hungary to Scotland with her. It was known as the Black Rood of Scotland, likely for the black case in which it was kept.
- and the archives of Scottish Records.
King Edward quickly imposed heavy taxes upon the Scots, bleeding the coffers dry. King Edward also established an English administration over Scotland, and thus an English occupation of Scotland including garrisoning English troops in many Scottish castles and fortifications.
Edward I of England, now as King of Scotland on August 28, 1296, again called together the Scots royalty and armies and asked them to swear allegiance to him as King, Lord and Master of Scotland and to sign another Ragman Roll.
The Ragman Roll, heavy taxes, and the forcing of Scotland to send her troops to support Edward's war with France would lay the seeds of rebellion in the years to come. In Edward's efforts to claim the Kingdom and Crown of Scotland, he grossly underestimated the people of Scotland. His determination to crush the Scots people had served only to define for the Scots, who they really were.
---
As it pertains to the Chiefly stem of Clan Strachan, by 1295 they were related to the Comyn family, who were related to King John Balliol. And, thus were ardent supporters of King John Balliol and the Comyn causes. This is confirmed by Nesbit:
"Sir Robert Keith II (d. 1332, Keith Earl Marischals) married Elizabeth STRACHAN , and had a son, Sir Robert Keith III (c. 1262-1346) who married Elizabeth, the daughter of John CUMMING (aka Comyn), a potent man."
There is no evidence to suggest the Strachans of that Ilk pledged fealty to King Edward of England.
The Ragman Rolls of 1296 has the following entries which are often confused with the STRACHAN surname:
Strathawan, William fiz Roger de (del counte de Lanark). (File No. 1127)
Arms: An ornament of six rays.
RR1596
According to Garry Strachan, our Clan Genealogist, the above entries refer to the Barony of Strathaven in South Lanarkshire, and has no connection to Strachan in the Mearns.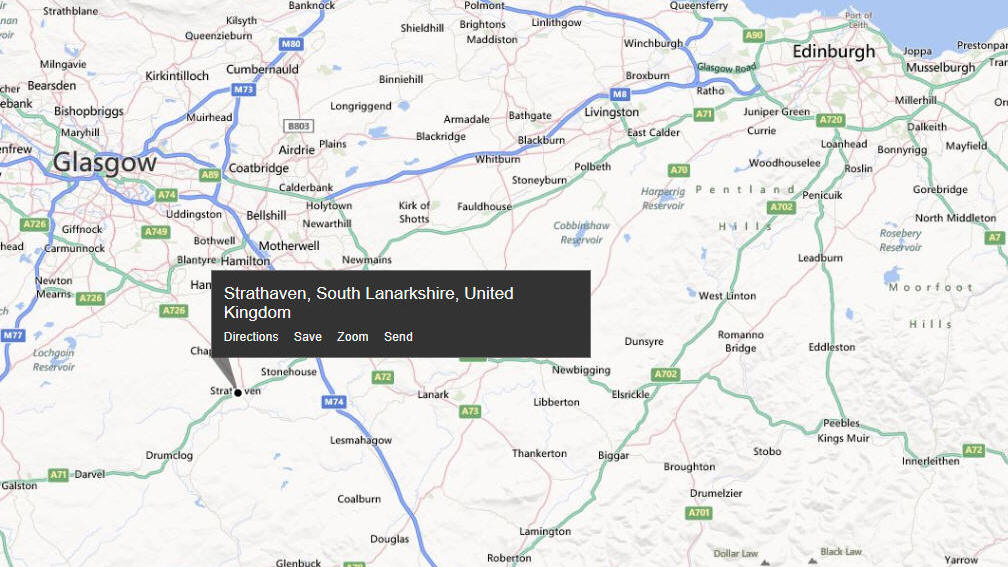 Click to see larger picture
In addition to the Barony of Strathaven in Lanarkshire, there is also a Strathaven north of the Mar District.
Other entries most likely associated with the Earl of Strathearn: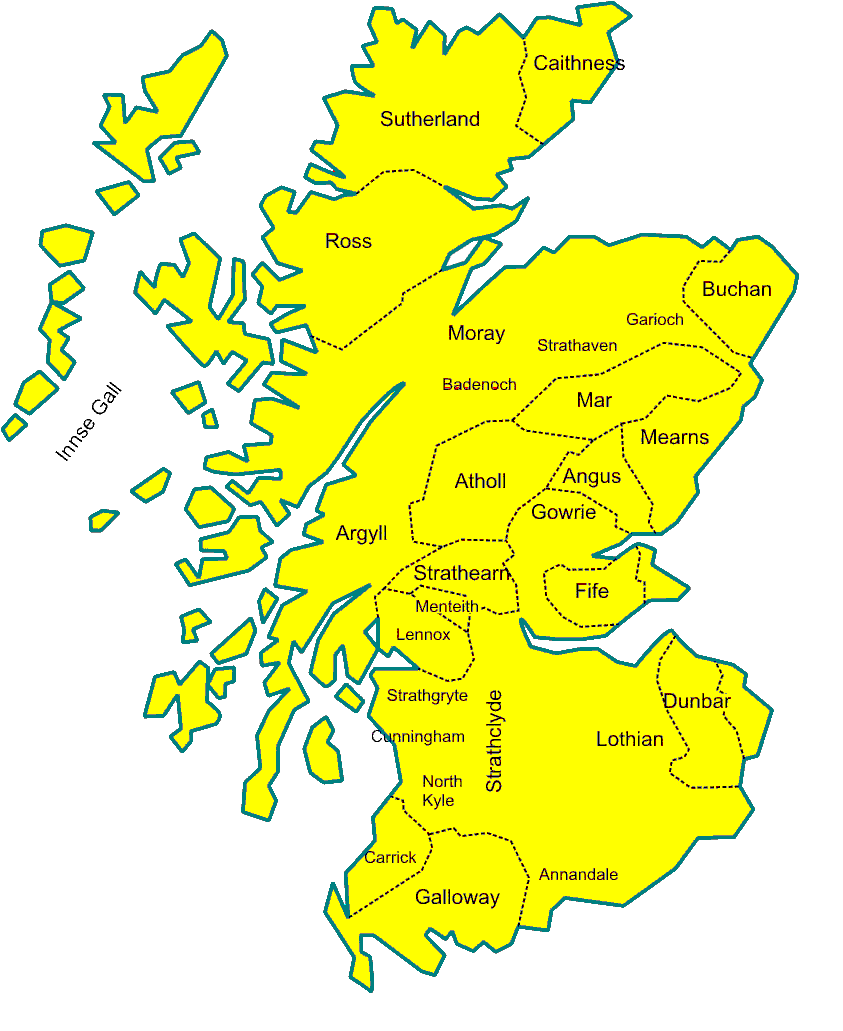 click above image to see larger picture
Ego de Strathnathe, PERTHSHIRE (File No. 1208)
Arms: A cross paty cantoned between four stars.
Bain indexes under Strachan.
RR558 (SHS62303).
Ego de Strathnathe is stated to be from Perthshire, and again not believed to be a relation to the Strachans of that Ilk (in the Mearns). More likely a derivative spelling of Stratherne (aka Strathearn), and related to Malise, Earl Stratherne (e.g., Sir Malis Comes de Stratherne). The District of Strathearn is in Perthshire.
Robert de Stratherne, PERTHSHIRE (File No. 1222)
Arms: A chevron between three charges.
RR559 (SHS62608, SAS2742).
From Perthshire, and not believed to be a relation to the Strachans of that Ilk (in the Mearns). More likely related to Malise, Earl Stratherne (e.g., Sir Malis Comes de Stratherne). The District of Strathearn is in Perthshire.
John de Stratherne, FORFAR in Angus (File No. 3616)
Arms: A bird, rude.
RR1028
Per Garry Strachan, "He is stated to be of Forfar, which seems a likely place for John Stratherne to have submitted his fealty to Edward, who stayed there in 1296.
" Per McAndrew, "The surname appears to contain only six letters, so a contracted version, STR'ERN?, must be assumed." He further compares this contracted spelling to that given in the above Robert de Stratherne
(File No. 1222).
It is very difficult given various name derivations to state with absolute confidence and certainty that these individuals were not associated with the Strachan family in the Mearns. However, a high degree of confidence can be asserted given none of the armorial blazons are even remotely similar to those of Strachan in the Mearns, which incorporated a stag (or hart) in one form or another on the shield.
------
Source Document (PDF, 5.33MB)
McAndrew, Bruce A., "The sigillography of the Ragman Roll." Pro Soc Antinq Scot, 129 (1999), 663-752