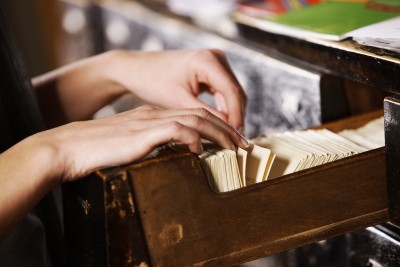 Most do-it-yourself genealogists will eventually hit a road block.
One you've traced your family to a known place (city, state, or country), the next step is to define your scope of research and to find a genealogist in that location. A good genealogist will not simply use a computer, but will go out to visit cemeteries, local church records, census information, and conduct local document research such as land records, military rolls, etc.
You'll probably also want to establish a budget, and next get a quote from at least three genealogists . Their fees can vary greatly depending how busy they are, and how interested they are in doing your research. Also, ask what work will be performed, what is their research strategy? For example, a genealogist who is going to do a lot more field work compared to a genealogist who is only going to make some phone calls or simply use online sources will produce substantially different results, and may be worth paying more money. If you just need, for example, a marriage certificate from a known local church, then you may simply want to go with the lowest bidder. It all depends on the scope of the research.
It is important to give as much information about your ancestor to the genealogist. Such as birth date and place, profession, religious affiliation, military service, marriage date and place, were they landowners, names of their spouse and children, date and place of death, or any other family members in the area.
In most cases, the Clan Strachan Society recommends finding an Expert Genealogist, and not simply the lowest bidder. Ask if they have been certified, through who, and what is the certification body's contact information? Check their references!! Find a researcher who will start with an analysis of the information provided, and who can provide a research strategy. Genealogy research frequently consists of online paid sites to advance the research as far as possible. This means actual proof of relationships between generations. An example of this may be Birth, Death & Marriage Certificates. The researcher will then spend considerable time on ordering records from different resources. An Expert will understand which resources and repositories to use. The researcher will then travel to whichever village/city, state/province/district that your Ancestors lived. Nothing compensates for this type of research and sometimes this is the only way to find original records. These type of researchers are worth their price.
Budget
Again, genealogy researchers can vary in price. A good estimate for an Expert Genealogist is $50 to $100/hour. It is always best to ask for a fixed project price. This way, if the genealogist makes a error and follows a bad lead, you do not pay extra for their mistake. Again, you want to hire local genealogists, as you certainly don't want to pay for travel expenses, etc. Also, provide a paid researcher all the information you have, including birth, death, and marriage certificates (or certified copies). You don't want to pay for research you've already performed.
Clan Strachan Society Members with questions, please see out contact page for free consulting.
---
Links
The Association of Scottish Genealogists and Researchers in Archives
The Lord Lyon Court recommends for Scottish genealogy research.
Only accredited body for professional genealogists in Scotland
American Society of Genealogist
There are two formal genealogical accreditation systems in the United States, which are independent of one another, and which are entirely voluntary — professional genealogical work is not legally regulated at any level. Both organizations maintain directories of accredited individuals.
USA and Canada
Association of Professional Genealogists