Clan Strachan Warcry - Clachnaben!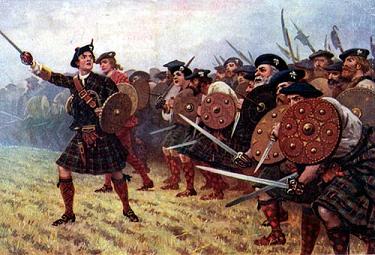 The Warcry for Clan Strachan is 'Clachnaben!'
Contrary to popular belief, there is no such thing as a Clan Motto. A motto belongs to the individual Armiger to which is inscribed in his Armorial Bearings, AND can be virtually anything the petitioner for Arms requests. In fact, most new grantees choose a unique motto that has special meaning to them, or their individual family. Further, the motto, even the Chief's Motto on his crest badge, can be modified by a subsequent matriculation of Arms.
The Clan Warcry is a very different mater. A Warcry belongs to the entire Clan, and it would be inappropriate to refer to it as the Chief's Warcry, or Chief's slogan.
Traditionally, a warcry was used in battle during a Highland Charge to arouse aggression and esprit de corps on one's own side, and cause intimidation on the hostile side. Ideally by overstating one's own aggressive potential to a point where the enemy prefers to avoid confrontation altogether and opts to flee, or negotiate. In order to overstate one's potential for aggression, battle cries needed to be as loud as possible, and have historically often been amplified by acoustic devices such as horns, drums, conches, carnyxes, bagpipes, bugles, etc. The Scottish Regiments even today employ the use of bagpipes to intimidate their enemies.

Evolution of the Clan Strachan Warcry
According to Jim Strachan's Book, "Here's Tae Us, Wha's Like Us - A History of Clan Strachan," the book states:
"Although no literature or document has yet been discovered that informs us of the warcry for Clan Strachan, we can with a fairly high degree of confidence make an intelligent guess. We do know for certain each clan had a slogan or warcry, often the name of a physical feature in the clan district. Given this information, anyone visiting the current village of Strachan will quickly notice one extremely prominent physical feature of its topology… that being the eastern Grampian mountain of Clachnaben.

It is quite likely that ancestors now long past, when charging the enemy in proper highland tradition once stood together screaming in unison:

"Clachnaben!…. Clachnaben!… Clachnaben!"

Surely other alternatives are possible. One of the rivers for example, the Feugh or the Awen. However, none stand so prominently over the landscape as Clachnaben."
In a letter received from Andrew Pearson, author of "The Slogans & Warcries of Scotland of Old,":
"It may surprise you to know that other clans who are currently no longer aware of their original clan slogans have incepted new ones for use at gatherings, etc., and in rallying their clans folk, or as watchwords between themselves, just as in the past.

As you know, slogans/warcries were couched in the vernacular of the clan itself - Gaelic or Scots - and thus are much more pertinent than the highfalutin mottos usually written in Latin or French that are derived from the chiefly coat of arms. These mottos are in fact the property of the armiger, the chief, and not the clanspeople. Indeed, by contrast, the slogan pertains to everyone who affiliates to the clan name. It is the true universal verbal unifier of clan ethos.

At least two leading members of their clans, the Earl of Caithness, Chief of Clan Sinclair, and Iain Gunn of Banniskirk, Commander of the Clan Gunn (the Gunn chiefship is dormant), are using this book to widen their clan's 'slogans' to encompass all members of their respective clans. Forby, Youngs, Macinneses and Wardlaws have, within their respective clan societies/associations, already formalised a clan slogan for their respective clansfolk and for these slogans I detail the particulars also. After reading Jim's book, it would give me great pleasure now to do the same with regard to Clachnaben -[ Gaelic 'Clach na Beinne' - stone of the ben (ben meaning mountain) ]- for the Clan Strachan."

Please, let me know if it I have your permission to use the vernacular.
After a unanimous vote from the Clan Strachan Society Board of Directors, the Clan Strachan warcry, Clachnaben, is thus reinstituted in the ancient custom this 8th Day of July, 2008.

As mentioned,
no landmark stands out so prominently as the eastern Grampian mountain of Clachnaben located in Strachan Parish. It is so illustrated by an old-world couplet:
"
There are two landmarks out at sea,
Clochnabin and Bennachie
."

About Clachnaben:

Clachnaben
(archaically "Cloch-na'bain"; Scottish Gaelic: "Clach na Beinne" for stone of the ben), is one of the eastern Grampians in Strachan parish, Kincardineshire. It is crowned by a mass of bare granite, from which it is sometimes called the "White Stone Hill." Some locals in the village of Strachan refer to these mountains as "The Maid of Strachan."
Clachnaben rises to an altitude of 1944 feet above sea-level, and commands a view of the East of Scotland. It is said that on a clear day one can view north all the way to Peterhead, and south to the Lammermuirs in East Lothian, just southeast of Edinburgh.