Ceud Mile Failte!
One Hundred Thousand Welcomes!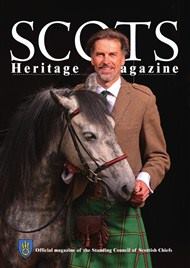 Rob Strachan, Commander of Clan Strachan
Makes the cover of Scots Heritage Magazine
Click image to be taken to the article,
pictures, and video of the event.
The Clan Strachan Society is a non-profit public benefit corporation, whose focus is the education of culture, history, heraldry, and heritage of Scotland; and the many families bearing the surname of Strachan (broadly defined). We also provide free genealogy research instruction, and have an online library for our members.
Please, consider joining our worldwide network of members. Our Lifetime membership is what most Clan Societies charge for one year!
Join our email list - Click here (FREE)
The Society is a major supporter of the Clan Strachan Charitable Trust, Edinburgh.